Are you a Seme or Uke?
You are the Proper Princess. You are what a princess is: fashionable, elegant, responsible and obedient. And you enjoy being a princess, too! You love the attention and the spotlight, you enjoyed the luxuries. Yet, besides all that, you are smart and witty enough to be the perfect princess, everyone enjoyed your company, both because of your beauty and your wit.
Go to Romantic Love Quiz to do more Quizzes!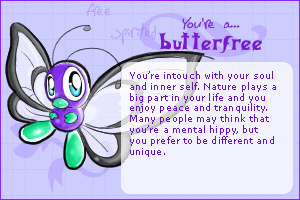 Which Yuugiou Character's Issue are you?
A Kokoro No Naka quiz by Judy

Which Egyptian Yuugiou Character are you?
A Kokoro No Naka quiz by Judy

Who is Your Naruto Date?
Hosted By theOtaku.com: Anime and Fandom

What God Are You?
Hosted By theOtaku.com: Anime and Fandom

What Pokemon Starter Are You?
Hosted By theOtaku.com: Anime and Fandom

What Eevee Evolution Are You?
Hosted By theOtaku.com: Anime and Fandom

What Chrono Crusade Character Are You?
Hosted By theOtaku.com: Anime and Fandom

What Is Your Emblem?
Hosted By theOtaku.com: Anime and Fandom

What Is Your Primary Anime Day?
Hosted By theOtaku.com: Anime and Fandom

What Rurouni Kenshin Guy Are You?
Hosted By theOtaku.com: Anime and Fandom

What Sparda Male Are You?
Hosted By theOtaku.com: Anime and Fandom

What Kingdom Hearts Character Are You?
Hosted By theOtaku.com: Anime and Fandom

What Chipmunk Are You?
Hosted By theOtaku.com: Anime

What Legendary Pokemon Are You?
Hosted By theOtaku.com: Anime

What Older Mario Game Are You?
Hosted By theOtaku.com: Anime

Who Is Your Fire Emblem Prince?
Hosted By theOtaku.com: Anime

What SpongeBob Character Are You?
Hosted By theOtaku.com: Anime